Friday Dec 16, 2022
Cincinnati Bengals OL Coach Frank Pollack | Leader of the Glass Eaters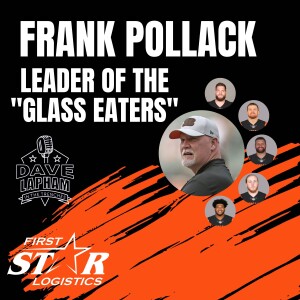 After a rough start to the season, the Cincinnati Bengals offensive line had come together, becoming the group offensive line coach Frank Pollack expected when he stressed he was looking for an offensive line full of "Glass Eaters" after the signing of center Ted Karras, right guard Alex Cappa, and right tackle La'el Collins in free agency and the drafting of rookie left guard of Cordell Volson when teamed with left tackle Jonah Williams.
The Bengals are currently on a five-game winning streak, and while several players have stepped forward during the streak to help secure wins, the play of the offensive line can be credited to giving quarterback Joe Burrow more time to scan the field and find open receivers and for opening running lanes for Samaje Perine and Joe Mixon to have big games.
Next for the Bengals is the 6-7 Tampa Bay Buccaneers coming off an unimpressive 35-7 beatdown by the San Francisco 49ers last Sunday.
With most of the talk centered on the match-up of Burrow and Tom Brady, In The Trenches with Dave Lapham, presented by First Star Logistics, understands the game will be decided in the trenches, especially the play of the Bengals offensive line against an excellent Buccaneers defense.